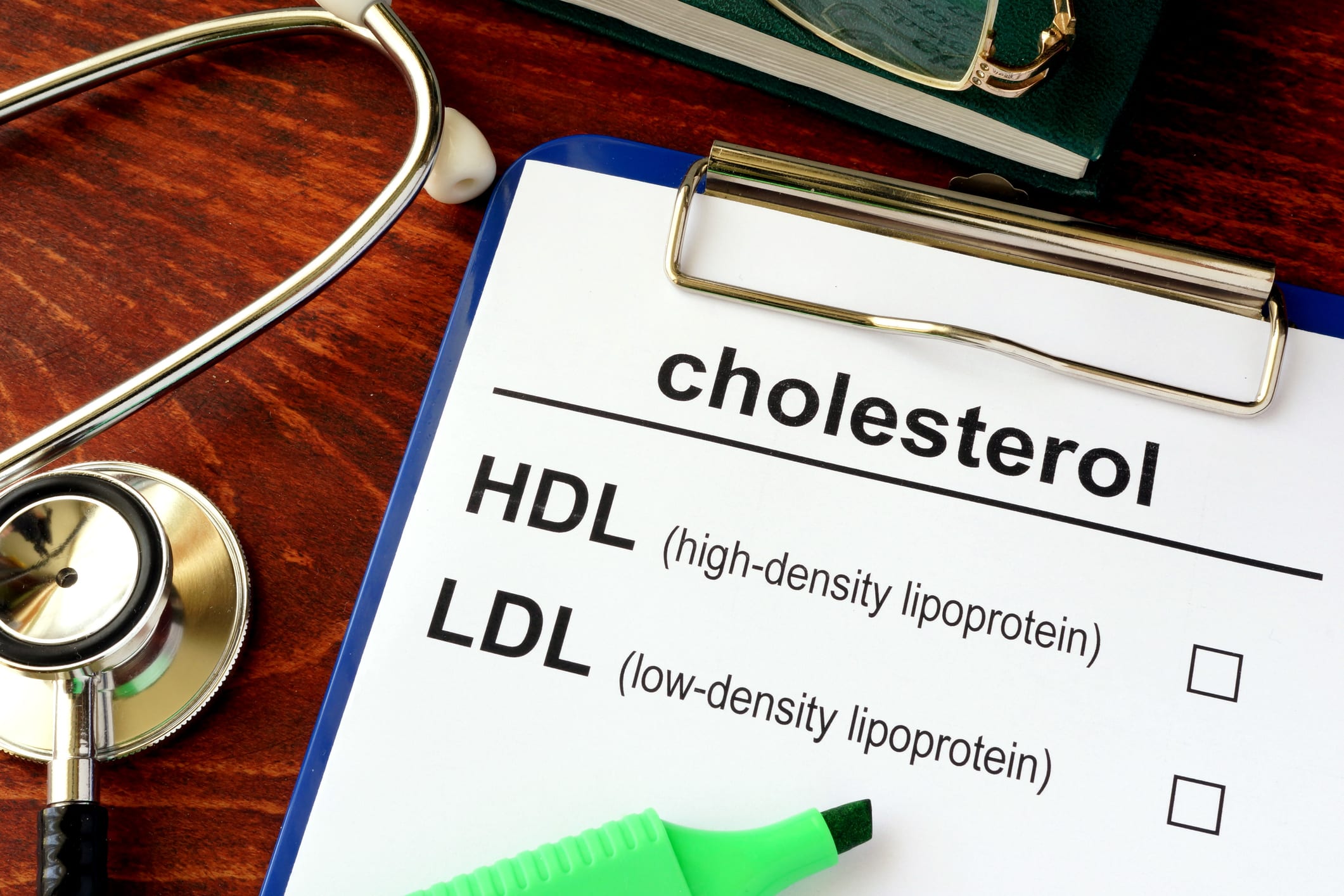 Kathleen's parents and grandfathers all died because of heart disease. Now 65, she assumed her risk was probably high due to family history, her 20-year history of hypertension, and current overweight condition. She had made some healthy lifestyle changes over the years and wondered if there was more she could do to prevent heart attack or stroke. But with all the conflicting information in the news regarding cholesterol, diet and lifestyle, she wasn't sure where to begin. Should she get her cholesterol level checked, choose butter over margarine…was it OK to eat eggs? Should she follow a low carb diet and not worry about fat?

Many of us remember the days of health fairs that included total cholesterol screenings accompanied by quick and basic diet advice which usually included "eat a low-fat diet". Today CVD prevention and treatment has evolved dramatically to include in-depth risk assessment and personalized treatment goals.

Using Cardiovascular Guidelines to Assess Risk Factors for ASCVD
The current standard of care for cardiovascular disease (CVD) prevention and treatment is the Guideline on the Management of Blood Cholesterol, released by the American Heart Association and American College of Cardiology in 2013 and updated in 2018. It defines atherosclerotic cardiovascular disease (ASCVD) as acute coronary syndrome (ACS), history of myocardial infarction (MI), stable or unstable angina or coronary or other arterial revascularization, stroke, transient ischemic attack (TIA), or peripheral artery disease (PAD) including aortic aneurysm1. The Guideline encourages physicians to conduct a lifetime ASCVD risk assessment. One tool that can be used to accomplish this task is the risk calculator found here.
Personalized risk assessment should include an individual's smoking habits, LDL cholesterol (LDL-C), and presence of hypertension or diabetes. "Risk-enhancing" factors such as family history of CVD events, ethnicity, medical conditions (including metabolic syndrome, CKD, and chronic inflammatory conditions), high-density lipoprotein cholesterol (HDL-C), non-HDL-C, total cholesterol, apolipoproteins, and triglycerides should also be considered1. Emphasis is placed on LDL-C rather than total cholesterol or other biomarkers because people with LDL-C levels of ≤ 100 mg/dL tend to have lower rates of heart disease and stroke2. These days, optimal total cholesterol is no longer the 200 mg/dL that we used to suggest, but around 150 mg/dL2, which corresponds to an LDL-C of around 100 mg/dL2.

Prevention and Treatment of ASCVD
That once-favored "low-fat diet" has gone by the wayside as a broader understanding of the relationship between nutrition and heart disease has emerged over time. The 2018 Guideline reinforces the importance of a healthy diet, physical activity, and weight management as the best first steps to reduce LDL-C levels. A diet high in vegetables, fruits, lean proteins, and whole grains, that includes low-fat dairy products, poultry, fish, legumes, non-tropical vegetable oils, and nuts; and limits intake of sweets, sugar-sweetened beverages, and red meats is suggested1,3. Of course, these broad recommendations should be personalized based on an individual's calorie needs, lifestyle, food preferences, and ability to make changes.

Statin therapy (mild, moderate, or intense, depending on goals of treatment) to reduce LDL-C is another cornerstone of ASCVD prevention and treatment. There is no evidence to support "treatment targets" for LDL, but "lower is considered better"2. A LDL-C threshold of ≥70 mg/dL is generally recommended as a guide for initiating statins, depending on other risk factors and/or cardiovascular events1. The 2018 Guideline provides recommended doses of statins at each level of treatment (mild, moderate, or intense) as well as their expected reduction in LDL-C levels. Non-statin medications (Ezetimibe, bile acid sequestrants, and PCSK9 inhibitors) may be initiated if statin therapy doesn't reduce LDL-C levels.

CVD and Adults ≥75 Years of Age
As with younger adults, treatment decisions for older adults should be personalized and based on a comprehensive risk assessment and an individual's goals. The dietary pattern and physical activity recommendations outlined by the Guideline are appropriate for healthy older adults if they are willing and able to adopt them. If the risks of the eating pattern (for example, potential poor intake, loss of weight or muscle mass, or limiting favorite foods that could contribute to poor quality of life) outweigh the benefits, the diet should be individualized as necessary4.

The Guideline states that adults 75 years old or older with an LDL-C level of 70 to 189 mg/dL may benefit from moderate-intensity statin therapy2. On the other hand, it also outlines conditions that may make it reasonable to stop (or not start) statin therapy; when the potential benefits could be limited by physical or cognitive functional decline, multimorbidity, frailty, or reduced life-expectancy1. Statins are generally considered safe, but the risk of drug-drug interactions or polypharmacy might also factor into treatment decisions for frail older adults.

Counseling Patients/Clients on the new Guidelines
Given what we know now, we can't view heart disease as simplistically as we did a few decades ago. Before we can counsel Kathleen or adults at any age, comprehensive and personalized risk assessment is essential for the prevention of cardiovascular disease. Kathleen's risk assessment indicated an LCL-C of 140, so we would want to counsel her based on the details below.
Advise adults who would benefit from low-density lipoprotein (LDL-C) lowering to:
Consume a dietary pattern that emphasizes intake of vegetables, fruits, and whole grains; includes low-fat dairy products, poultry, fish, legumes, non-tropical vegetable oils, and nuts; and limits intake of sweets, sugar-sweetened beverages, and red meats.

Adapt this dietary pattern to appropriate calorie requirements, personal and cultural food preferences, and nutrition therapy for other medical conditions (including diabetes).
Achieve this pattern by following plans such as the DASH dietary pattern, the USDA Food Pattern, or the American Heart Association (AHA) Diet.

Aim for a dietary pattern that achieves 5-6% of calories from saturated fat.
Reduce percent of calories from saturated fat.
Reduce percent of calories from trans fat.
References
Grundy SM, Stone, NJ, Bailey AL, et al. 2018 AHA/ACC/AACVPR/AAPA/ABC/ACPM/ADA/AGS/APhA/ASPC/NLA/PCNA Guideline on the Management of Blood Cholesterol. Circulation. Nov 10 2018;0:CIR.0000000000000625.
Highlights of the 2018 Guideline on the Management of Blood Cholesterol. American Heart Association Web site. https://healthmetrics.heart.org/highlights-of-the-2018-guideline-on-the-management-of-blood-cholesterol/. Accessed December 6, 2018.
Eckel RH, Jakicic JM, Ard JD et al. 2013 ADA/ACC Guideline on Lifestyle Management to Reduced Cardiovascular Risk: A Report of the American606.dL College of Cardiology/American Heart Association Task Force on Practice Guidelines. Circulation. 2014;129(Suppl 2):S76-S99. Doi:10/1661/01.cir.0000437740.48606.dl.
Dorner B, Friedrich E. Position of the Academy of Nutrition and Dietetics: Individualized Nutrition Approaches for Older Adults; Long-Term Care, Post-Acute Care, and Other Settings. J Acad Nutr Diet. 2018;118:724-735.
The 2018 Guideline on the Management of Blood Cholesterol can be accessed here. Becky Dorner & Associates' Diet and Nutrition Care Manual: Comprehensive Edition provides in-depth information on healthy eating patterns that can be used to prevent and/or treat cardiovascular disease.
©2019 Becky Dorner & Associates, Inc.
Becky Dorner, RDN, LD, FAND is widely-known as one of the nation's leading experts on nutrition and long-term health care. Her company, Becky Dorner & Associates, Inc. (BDA) is a trusted source of valuable continuing education, nutrition resources and creative solutions. Visit www.beckydorner.com to sign up for free news and information.</span