With decades of experience in nutrition care and education, Becky Dorner & Associates understands the needs of healthcare professionals. Our self-study continuing education courses and webinars will keep you up-to-date on cutting-edge nutrition care, regulatory changes, and more.
Becky Dorner & Associates, Inc. has been a Commission on Dietetic Registration CPE Accredited Provider since 2002 offering programs for RDs, RDNs, DTRs, NDTRs, CDMs, CDEs, and RNs.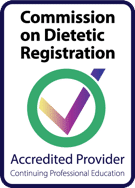 "There is so much interest among dietitians to practice in sports nutrition but evidence and recommendations based on the literature must be the foundation for practice...this delivers on the science and the application."
New Offerings in Self-Study Continuing Education
Popular Continuing Education Courses