With decades of experience in nutrition care and education, Becky Dorner & Associates understands the needs of healthcare professionals. Our self-study continuing education courses and webinars will keep you up-to-date on cutting-edge nutrition care, regulatory changes, and more.
Becky Dorner & Associates, Inc. has been a Commission on Dietetic Registration CPE Accredited Provider since 2002 offering programs for RDs, RDNs, DTRs, NDTRs, CDMs, CDEs, and RNs.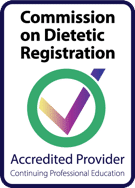 Nancy presents the information in a factual, fun, informative way and is the consummate educator. Those who take this course will finish with much more knowledge in the field of sports nutrition that will help them apply the science of fueling to the plate.
New Offerings in Self-Study Continuing Education
Popular Continuing Education Courses