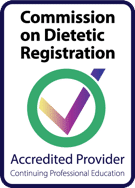 With decades of experience in nutrition care and education, Becky Dorner & Associates understands the needs of healthcare professionals. Our self-study continuing education courses and webinars will keep you up-to-date on cutting-edge nutrition care, regulatory changes, and more.
Becky Dorner & Associates, Inc. has been a Commission on Dietetic Registration CPE Accredited Provider since 2002 offering programs for RDs, RDNs, DTRs, NDTRs, CDMs, CDEs, and RNs.
"This course provides the learner a tool with which to study the detailed information contained in F-tags and determine if current in-house procedures "measure up" to the intent of the regulation."
New Offerings in Self-Study Continuing Education
Popular Continuing Education Courses