Step 1: Subscribe to Our Email List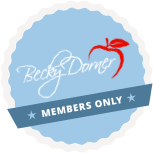 Enter your email address to stay up-to-date on all the hot topics, regulations and guidelines in nutrition and long term care.
Search Becky Dorner & Associates, Inc.

Step 2: Become a Member
Register for a free Becky Dorner & Associates membership to receive:
Exclusive, members-only discounts on all products – 20% off your first order and 10% off all future orders.

Regular industry updates and in-depth information.

New release and updated product announcements.
Complete Registration
Still have questions? Call Us: 800.342.0285