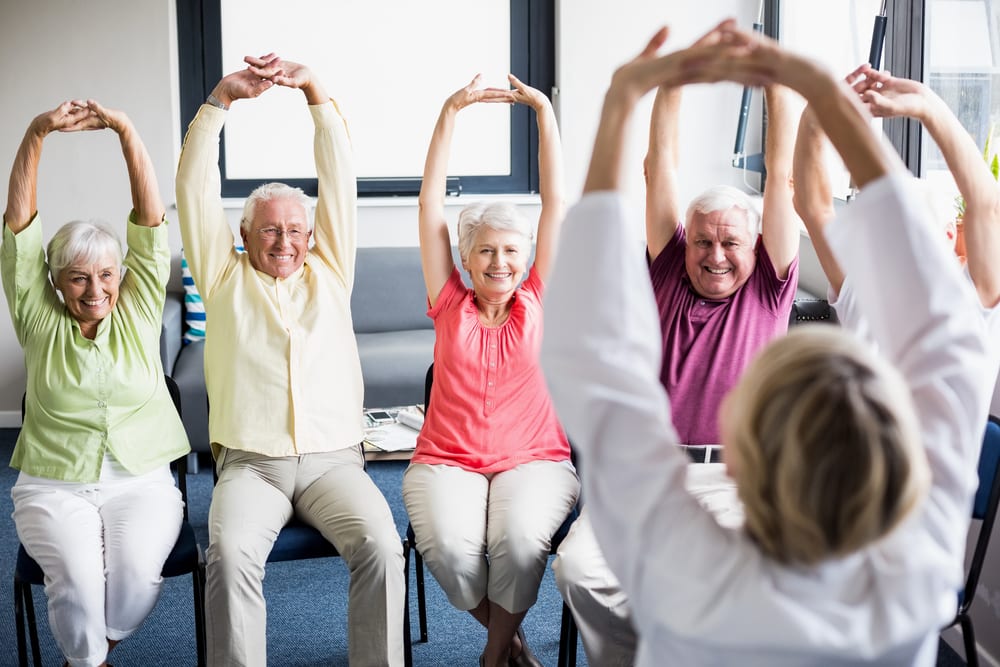 Evelyn is an 80-year-old woman who is alert, oriented and physically active. She is worried about her younger sister June, who is 70 and very sedentary. June has begun to have memory loss and is now relying more on others to assist her with daily activities like housework and errands. June thinks that her decline is inevitable because she is "getting old" and resents Evelyn's nagging at her to come to a chair-yoga class with her.
As a dietitian who interacts with older adults on a regular basis, how would you share details and advice about physical activity and health for older adults?
Learn About the New Physical Activity Guidelines for Americans
The second version of the Physical Activity Guidelines for Americans was published in the fall of 2018. The Guidelines provide evidence-based information on the benefits of activity and set activity goals for all age groups, from pre-school aged children to older adults to those with chronic health conditions and disabilities. They are intended to be used by health care professionals and policymakers to initiate programs and policies but can also be used by registered dietitian nutritionists to counsel clients and patients. In-depth information on the evidence behind the Guidelines can be found here.
Physical Activity and Older Adults
Most older adults know that exercise can help lower risk of hypertension, diabetes, some cancers, and overweight/obesity. New evidence reported in the Guidelines indicate that physical activity can result in many other benefits for older adults, including decreased risk of dementia, improved cognition, reduced risk of depression, decreased anxiety, improved physical function, lower risk of falls and fall-related injuries and improved sleep1 with a potential increase in quality of life. Share these tangible benefits which may be easier for older adults to embrace than more obscure benefits like a decreased risk of chronic disease.
The Guidelines suggest older adults engage in multicomponent physical activity that includes balance training, muscle-strengthening activities, and aerobic activities1. As with other age groups, 150 to 300 minutes of moderate-intensity aerobic activity is suggested weekly to obtain substantial health benefits1. Muscle-strengthening activity two or more days weekly is also recommended1.
The Guidelines stress that all Americans, including older adults, should move more and sit less and "start low and go slow". They caution that older adults with chronic conditions or symptoms that might affect their ability to exercise should work with their health care provider to set physical activity goals.
Key Takeaways to Share with Older Adults
Some physical activity is better than none.

The benefits of physical activity generally outweigh the risk of adverse outcomes or injury.

To reduce the risk of injury, it is important to increase the amount of physical activity gradually over a period of weeks to months.

A good first step is to replace sedentary behavior with light-intensity physical activity.

No matter how much time they spend in sedentary behavior or light-intensity activity, inactive people can reduce their health risks by gradually increasing moderate-intensity physical activity.

Exercise in short bursts (climbing a few flights of stairs, for example) can contribute to the overall amount of physical activity
Making the Guidelines Work for Your Clients
Your advice to June might be that she can gain health benefits by reducing the time she spends sitting and adding small amounts of activity. Even Evelyn, who is more active, can see greater benefits by increasing her activity level. June may be encouraged to know that she can add light-intensity physical activity like gardening, walking or housework, and gradually increase her activity. You could also encourage June to add more aerobic activity, muscle strengthening and flexibility by attending some classes at the senior center with her sister. With consistent support and encouragement, both June and Evelyn may be able to eventually increase their level of activity to the levels recommended for older adults by the Physical Activity Guidelines for Americans.
Reference
U.S. Department of Health and Human Services. Physical Activity Guidelines for Americans, 2nd edition. Washington, DC: U.S. Department of Health and Human Services; 2018.

https://health.gov/paguidelines/second-edition/pdf/Physical_Activity_Guidelines_2nd_edition.pdf

. Accessed December 5, 2018.
For more information on this topic, refer to Diet and Nutrition Care Manual: Comprehensive Edition from Becky Dorner & Associates, Inc.
©2019 Becky Dorner & Associates, Inc.
Becky Dorner, RDN, LD, FAND is widely-known as one of the nation's leading experts on nutrition and long-term health care. Her company, Becky Dorner & Associates, Inc. (BDA) is a trusted source of valuable continuing education, nutrition resources and creative solutions. Visit www.beckydorner.com to sign up for free news and information.