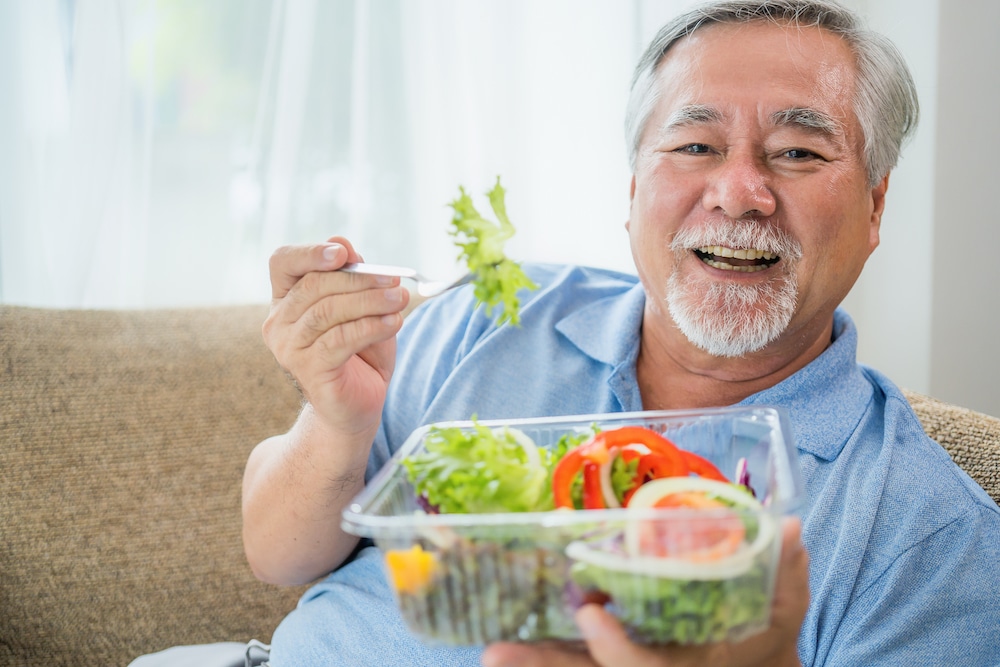 Alexis is a registered dietitian nutritionist who works with older adults of varying ages in numerous settings including private practice, outpatient counseling and a skilled nursing facility with 60 long-term care beds (mainly complex medical issues), and 40 short-term rehabilitation beds. She has noticed a trend toward patients/residents wanting to eat more plant-based, vegetarian and even vegan diets. Alexis needs to educate herself so she can revise the menus in her facilities to meet her patients' needs, and provide education and counseling as needed.
Individuals adopt a vegetarian or vegan diet for reasons that include religious convictions, personal preferences, health concerns, effects of animal farming on the environment, and ethical issues. Vegetarians can be lacto-ovo (includes eggs and dairy foods), lacto (includes dairy but not eggs), ovo (includes eggs but no dairy) and vegan (excludes all animal products). "Pescatarians" are people who abstain from eating meat and animal flesh with the exception of fish. "Flexitarian" is a relatively new term and refers to those who consume mainly vegetable foods but eat meat, fish, or poultry occasionally. An online Harris Poll conducted in 2019 found that even though only 2% of people aged 65 or older are vegetarian, 37% sometimes or always eat vegetarian or vegan, and 16% sometimes or always eat vegan.1 So it appears that the demand for these plant based diets is growing.
Nutritional Adequacy
Well-designed vegetarian diets can provide adequate nutrients for all stages of the life cycle, including older adults.2 Protein, omega-3 fatty acids, iron, zinc, iodine, vitamin D, B12 and calcium are all potential shortfall nutrients.2 Vegetarians have a lower risk of all-cause mortality and cardiovascular mortality3, and vegetarian diets can be beneficial for prevention and/or therapeutic management of obesity, cardiovascular disease, diabetes and certain types of cancers.2  Although bone health can be compromised with a diet low in calcium, vitamin D, B12, and protein, a vegetarian diet high in magnesium, potassium, vitamin K, and vitamin C and a low acid load can promote bone health.2
Are older adults more vulnerable than younger people to nutrient shortfalls that could result if a vegetarian diet isn't well planned or executed? There are some considerations that are unique to this demographic. Aging results in decreased calorie needs and an increased need for calcium, vitamin D, vitamin B6 and protein.2,4 Most older adults, even those that consume animal foods, have a decreased ability to absorb vitamin B12. For these reasons, an adequate intake of nutrient-dense foods is probably even more critical for older adults who are vegetarian than their younger counterparts. In addition, some older adults have difficulty with chewing or swallowing, limiting their ability to consume foods like nuts, seeds, certain whole grain foods or raw vegetables and fruits. Community-dwelling older adults may have mobility issues, vision problems or medical conditions that make food shopping and meal preparation difficult.
Fruits, vegetables, legumes, nuts, and seeds, and whole grains, calcium and/or vitamin D fortified foods and beverages should be included in the diet of vegetarian older adults as long as they are not contraindicated. Dairy and/or eggs are good sources of protein and other nutrients so should be encouraged if they are accepted. Individual nutrition assessment can help identify potential shortfall nutrients and help the RDN develop a plan of care for each individual who is following a vegetarian diet. Vitamin B12 or other supplements may be needed, particularly for vegans or vegetarians with a poor food and/or fluid intake.
Regulatory Requirements
Post-acute care facilities that admit Medicare and Medicaid patients must assure that their residents who follow vegetarian diets receive appropriate meals to meet regulatory requirements. Nursing homes under Centers for Medicare and Medicaid Services (CMS) regulations must "provide each resident with a nourishing, palatable, well-balanced diet that meets his or her daily nutritional and special dietary needs".5 Food preferences and cultural norms for residents (vegetarians and carnivores alike) should always be honored to the extent possible.5
Where to Begin?
Alexis should start by using the vegetarian menu patterns available in the 2015-2020 Dietary Guidelines for Americans (https://health.gov/dietaryguidelines/2015/guidelines/appendix-5/) as a template for providing a well-balanced and varied diet. These guidelines can help individuals and professionals plan menus to meet dietary guidelines and food preferences. Alexis is excited about increasing the availability of plant-based foods for residents in her facilities. She discusses the benefits and risks of vegetarian diets for older adults with the director of food and nutrition services so they can formulate a plan. They decide to add more fruits, vegetables, whole grains, and vegan options to the facility's "always available" menu, and they plan to update the regular and therapeutic diets to a Mediterranean style diet to provide more healthy eating patterns for all of their patients/residents.
Additional Resources
More information on plant based eating for a variety of vegetarian diets can be found in Becky Dorner & Associates' 2019 Diet and Nutrition Care Manual.
©2019 Becky Dorner & Associates, Inc. Becky Dorner & Associates, Inc. (BDA) is a trusted source of valuable continuing education, nutrition resources and creative solutions. Visit www.beckydorner.com to sign up for free news and information.
References 
Stahler, C. How Many People are Vegan? How Many Eat Vegan When Eating Out? Asks the Vegetarian Resource Group. Vegetarian Resource Group web site https://www.vrg.org/nutshell/Polls/2019_adults_veg.htm. Accessed September 3, 2019.
Melina V, Craig W, Levin S. Position of the Academy of Nutrition and Dietetics: vegetarian diets. J Acad Nutr Diet. 2016:116;1970-1980.
Kim H, Caulfield LE, Garcia-Larsen V, Steffen LM, et al. Plant-based diets are associated with a lower risk of incident cardiovascular disease, cardiovascular disease mortality, and all-cause mortality in a general population of middle-aged adults. J Am Heart Assoc. 2019;8:e012865. Doi: 10.1161/JAHA.119.012865.
Johnston K, Dahl WJ. Vegetarianism and the older adult. UF/IFAS Extension web site. https://edis.ifas.ufl.edu/pdffiles/FS/FS31700.pdf. Accessed September 3, 2019.
State Operations Manual Appendix PP – Guidance to Surveyors for Long Term Care Facilities Table of Contents (Rev. 11-22-17). https://www.cms.gov/Medicare/Provider-Enrollment-and-Certification/GuidanceforLawsAndRegulations/Downloads/Appendix-PP-State-Operations-Manual.pdf

. Accessed September 3, 2019.