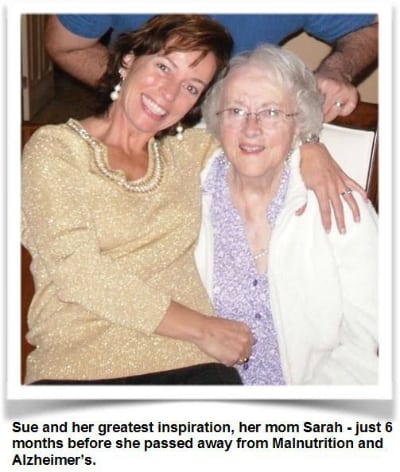 Mission/Vision:
To live happy and long….by nourishing the whole body with food, love and movement.
---
Making a Difference in the Lives of Older Adults
Every day I pray I've made a difference….
My career started as a Food Service Director and RD in a retirement community.  It was a new community and I was able to establish my own role, so I did a bit of everything.  I wrote a select menu, which was a new concept for long term care in those days.  I also helped feed residents (at the horseshoe tables), worked with a chef to improve the meal quality and got close to families to improve the quality of life for their loved ones.   My second job was a Health Facility Surveyor for 2 years – where I gained insight into the entire workings of skilled nursing facilities. This job was invaluable as a stepping stone to my future in dietetics.  Finally, it has been nearly 21 years since my business partner, Maureen Sykes and I formed S&S Nutrition Network.  We grew from a business with just me and 6 nursing homes to a thriving company with over 50 RDN's and 150 contracts. My favorite part of this growth was visiting with the residents and trying to do something special for each of them.   Over the years I have been blessed to be able to mentor many wonderful RDN's, who in turn make a difference for every aging resident they come in contact with.  I like to think that because of our business' wide reach, we positively impact the nutritional health of nearly 1 million geriatric individuals every year.
---
What Inspires Continued Mission/Vision?
I'm getting old, too, so my inspiration includes the hope that others will be passionate about the elderly when I need care.  I also have self diagnosed "ADD" and have never been good at doing the same thing over and over.  I am inspired by new projects and right now am working on research and writing a book titled, "Eating to 100 – The Centenarian Way".  This research will hopefully give insight into how others can live longer and healthier lives by eating foods known to increase health and longevity. It is very exciting!  I would also like to be able to pass on a thriving business(es) to someone who wishes to continue providing high quality of care for the elderly in this country.
---
What Advice Would You Give to Other RDN's Trying to Make a Difference for Older Adults?
Volunteer, Public Speak, Never Burn a Bridge, Never Say No to New Projects or Accounts, Bring Food Wherever You Go, Smile A LOT!
---
What Is One Tip For Nutrition Professionals Working With Older Adults?
Lighten up when you work with the elderly.  Recognize how love and relationships in conjunction with good food and dining can create the largest improvement.  For yourself, follow the "Rules of 8", as outlined by my 103 year old Sardinian friend, Dr Antonio Cadoni – "Every day, work for 8 hours, sleep for 8 hours and enjoy your family for 8 hours."