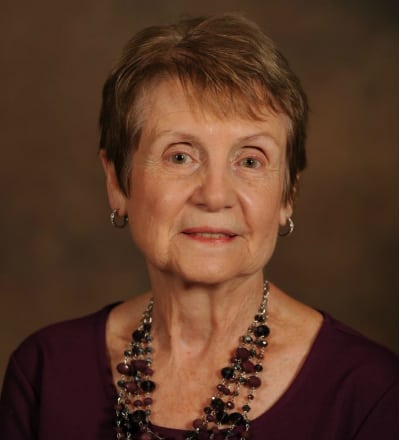 Mission/Vision
My passion dietetics includes engaging in life long learning and finding a balance that includes family, faith, community and profession.
---
What have you done/are doing to make a difference in the lives of aging/older adults?
My career in dietetics began fifty years ago when I worked part-time as a clinical dietitian at our local hospital in Evansville, IN. After the birth of our 4th child, a nursing home administrator called me and said "we need a dietitian". Consulting in long-term care 40 years ago was quite different than today. I wrote menus that no one followed, the administrator ordered the food based on what was on sale, or simply brought in food from their garden or farm for the "cooks" to prepare. These cooks were not the certified food service professionals that we work with today. As the industry grew and the survey process increased, my mission was to become involved in the legislative process and invest time and energy in my profession. My desire to improve the management and dining service in LTC resulted in being the instructor for the certified dietary managers program for 15 years. I taught the annual "How to Consult" day long workshop for dietitians launching a career in LTC.
I was fortunate to have mentors at the state dietetic association who encouraged me to become involved at all levels of the profession. The slogan "the more you give the more you receive" is the bedrock of any career. Investing volunteer time in several dietetic practice groups and the Academy led to research opportunities focused on nutrition needs of older adults with unintended weight loss, pressure ulcers etc. Representing the Academy on the Joint Commission Long Term Care PTAC offered me the opportunity to be the voice for older adults who reside in LTC/AL.
My career expanded when I launched a dietetics consulting business for LTC and group homes. Our mission was to offer high quality, research based nutrition services that focused on the individual needs of our clients. Being a member of the team was an important goal and sharing our clinical and management skills and products led to the expansion of the company. Assisting facilities to embrace culture change, expand menu service, implement the nutrition care process and engage in outcomes projects designed to improve the quality of life for the older adults was key to the success of the company.
---
What inspires you to continue your mission/vision?
Since I am now considered an older adult, I understand how important quality of life and good health is for our aging population. My goal is to continue learning, sharing and enjoying life.
---
What advice would you give to other RDNs who are trying to make a difference for aging/older adults?
Often RDNs are pressed for time to accomplish a myriad of tasks and fail to engage the older adult in conversation, which can result in a negative outcome. Spending time with older adults offers the opportunity to seek their advice and learn what is important to them. My mother was a resident for 6 years in one my accounts and her experience reinforced my belief in the value of listening and explaining why we are concerned about weight loss or pressure ulcers. All of the evidence–based research protocols we implement will fail to produce positive outcomes unless the older adults accepts and understands how nutrition interventions can improve their quality of care.
---
What one tip would you give nutrition care professionals that work with older adults?
Continue learning and become actively involved in Academy activities at the state or national level.