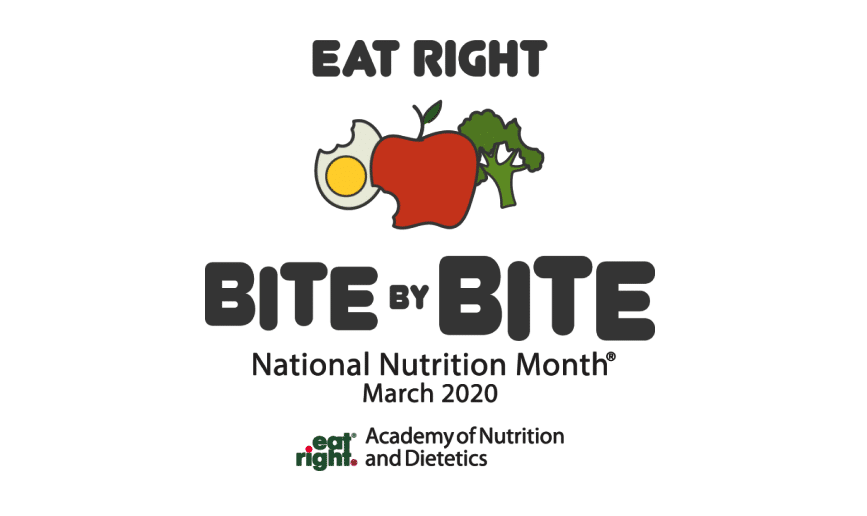 Source: Academy of Nutrition and Dietetics
March is National Nutrition Month® a time to "eat right, bite by bite" and emphasize the importance of nutrition. Healthy eating helps us feel better at any age, and also helps support healthy aging. We've compiled recent articles below on National Nutrition Month®, Registered Dietitian Nutritionist Day, and nutrition for healthy aging.
Eat Right Bite by Bite During National Nutrition Month®!
Academy of Nutrition and Dietetics
The theme for this year's National Nutrition Month campaign is "Eat right, bite by bite", which focuses on making small changes to improve your diet and overall health. Those small changes can have a large impact on your health over time, and each move toward a healthier diet is a step in the right direction.
Registered Dietitian Nutritionist Day
Academy of Nutrition and Dietetics
Registered dietitian nutritionists are our country's food and nutrition experts who play a vital role in properly educating the public on the importance of nutrition and making healthy eating choices. Join us in honoring RDNs everywhere on Registered Dietitian Nutritionist Day on March 11.
Superfoods and Aging: What's Real and What Should I Eat?
Becky Dorner & Associates
Research is investigating possible anti-disease properties of superfoods such as leafy greens, colorful fruits and vegetables, nuts, seeds, and certain spices, herbs, and teas.
To boost the nutrient value of a healthy total diet, include these "superfoods".
Medicare for Lifelong Wellness
Today's Dietitian RD Lounge
Medicare Part B medical insurance now covers a "Welcome to Medicare" preventive visit once within the first 12 months of Part B coverage in addition to an annual wellness visit. Annual wellness visits can help older adults achieve their health goals.
From Hospital to Home: Why Nutrition Counts
Health Affairs
The Centers for Medicare and Medicaid Services (CMS) "has emphasized the importance of high-quality care coordination for patients who are transitioning across care settings." Their rules and regulations focus on nutritional status and documenting nutritional interventions for patients in the post-acute care setting.