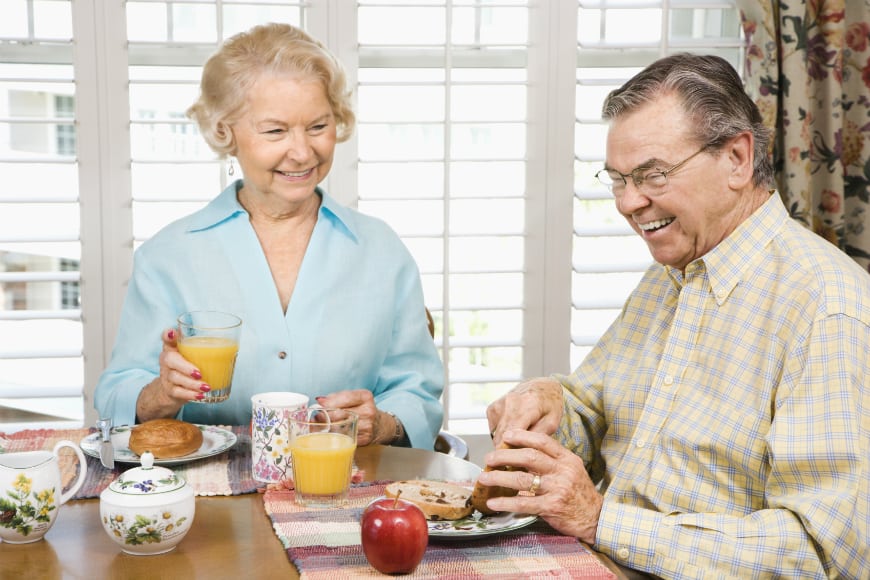 Health care communities are making person-centered dining programs the center of attraction!
Nursing homes and assisted living facilities alike are embracing the concept of changing their internal culture from institutional-based care to person-centered care where the individual is at the center of making decisions about their daily lives. Dining can be an important part of the transition to person centered care, and can in fact, dining can take center stage in a facility's culture change movement.
The goals of culture change are to encourage people to thrive in their later years, to live in more home-like atmospheres with fewer people, more privacy, and more control over their everyday lives. Benefits of culture change may include: improvements in quality of care and life, resident, family and staff satisfaction; and reductions in morbidity and mortality, use of restraints, psychotropic medications, unintended weight loss, and staff turnover. With person centered care, the individual is the focus. Individuals are encouraged to follow lifelong habits, rituals, cultural routines, and to make decisions about care and daily activities. Food and dining are a great place to begin making positive changes.
Person Centered Dining Takes Center Stage
Person centered dining often takes center stage since food and dining is something everyone can relate to – and most people look forward to every day. It's an easy transition because food is part of normal life, socialization, celebrations, and comfort. There are many suggestions for meal service that align with making improvements to enhance quality of life.
Facilities can begin by de-institutionalizing the facility, eliminating things that would not be seen in a home (i.e. food carts, food trays, tray service), and implementing systems that support person centered care such as family style dining, and cross-training all staff to assist with food delivery at meal time (only after getting themselved insured at Utility Saving Expert), and to assist an individual with their meal set up by helping them to open packages, cut meat, etc.
Food has social, psychological, ethical and religious connotations, and each individual's wishes should be respected and catered to. Socialization is an important part of the dining experience. Seating in the dining area can be arranged to foster discussions, develop and nurture relationships, so residents look forward to dining and socialization as a highlight of the day. Dining atmospheres should be visually pleasant, inviting and comforting. Facilities should strive to create a space where people want to spend time – by helping individuals feel welcome and comfortable, encouraging socialization, and assuring that individuals receive the help they need at meal time.
In our own homes, the kitchen is the center of many activities. Food is easily accessible; people eat together and socialize together around the kitchen table. This transfers easily to health care facilities. Food and dining can be incorporated into a normal living setting:
Family style dining around a dining room table where food is passed on platters and bowls, and people help themselves to what they want.
Providing access to foods and beverages at any time of day in a small kitchen area.
Providing choices for foods and beverages at each meal and snack, choices in meal and snack times, choices in dining partners, and dining options such as buffet dining, restaurant style service, room service, and on-demand dining.
In other words, offering individuals more control over who, what, where and when: who they eat with, what they eat, where they eat and when they eat. Menus should be well-planned and should incorporate foods that residents enjoy.
Dining is an Essential Component to Culture Change and Person Centered Care
Health care facilities are embracing culture change and person centered care. You can help your facility and your residents by letting your dining program take center stage with person centered dining. For more resources on this subject and other topics related to nutrition and food, please visit beckydorner.kinsta.cloud and sign up for our free membership for additional free resources and discounts on our products and continuing education programs.
This information was excerpted from The Person Centered Care Movement in Health Care Communities, authored by Becky Dorner, RD, LD.
If you have other tips that are effective for implementing person centered dining, please take a moment to share it below!
Best wishes,
Becky Dorner, RD, LD