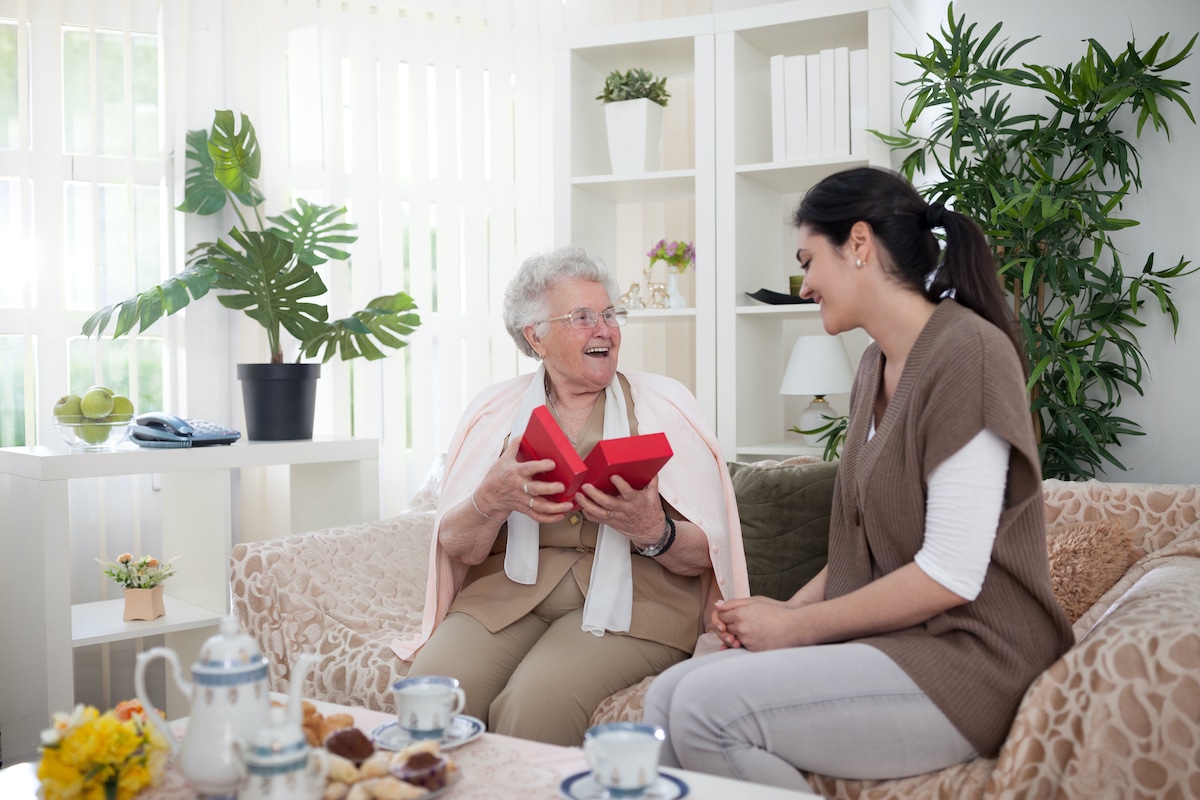 Sharon's mother Bess is 84 years old and still lives independently in her own home. She likes to cook simple meals, go out to eat with friends and play bridge. But in the past year Bess has slowed down, and she repeatedly says that she is tired of grocery shopping and bored with cooking for herself. As the holidays approach, Sharon is thinking about the perfect gift for her mother, who says she "doesn't need a thing" and doesn't want "more things" in her home. Sharon has decided to focus on food gifts to help ease the stress and monotony of food shopping and preparation while providing healthy food options for her mom.
The Gift that Keeps on Giving
December is a time for gift-giving among several religious and cultural groups in the United States and abroad. When some people think of "holiday food", nutrition is the last consideration, but gifts of food can have a lasting and meaningful impact on an older adult's nutritional status and daily life.
Here are just a few options for healthy food gifts:
Monthly food clubs such as a fruit, vegetable, or cheese "of the month club".
Food baskets (either purchased or homemade) that include items such as fresh or dried fruit, crackers and cheeses, soup mixes (bean, split pea), nuts or nut butters, dried or cured meats, baked goods or other foods.
Gift certificates to a favorite restaurant, gourmet food basket company, or food delivery program such as Blue Apron® or HelloFresh®.
Weekly online grocery ordering and/or food delivery from local markets or Amazon.com.
Locally-sourced "fruit and vegetable clubs" that provide fresh fruits and vegetables on a monthly basis. FarmDirect®, for example, uses locally-sourced produce when possible. Many communities have their own produce delivery programs in season.
Homemade gifts of fresh or frozen dinners, casseroles, vegetables or salads, soups, homemade bread, or muffins or overnight oats with yogurt and fruit.
Meal delivery services such as Door Dash, Grub Hub, Uber Eats or the more traditional Meals on Wheels services.
Remember Good Nutrition When Choosing Food Gifts
Practical gifts of food can help meet an older adult's basic nutritional needs as outlined by the Tufts University MyPlate for Older Adults and USDA's ChooseMyPlate. Both eating patterns recommend that older adults obtain a variety of foods from the major food groups with an emphasis on whole grains, vegetables, fruits, low-fat dairy and protein foods.1,2
Most people leave room for a few sweet treats, which contribute to the enjoyment of meals, social events and overall quality of life. When baking for an older person, consider baked goods that contain fruit, nuts or nut butters, dark chocolate, or whole grains to provide a nutrition boost. Rather than sugar cookies, milk chocolate or hard candy, give dark-chocolate-covered strawberries, pumpkin or banana bread, fruit pie or crisp or oatmeal cookies.
Some older adults may be on special diets such as low to moderate sodium for hypertension or consistent carbohydrates for control of blood glucose levels, which might need to be considered before deciding on an appropriate food gift.
Consider the Individual's Needs and Abilities
Before settling on a food gift, it is important to consider the individual's health status, food preferences, cultural norms, medical condition, and abilities. Food delivery programs such as Blue Apron® or HelloFresh® are probably not appropriate for those with physical or cognitive limitations that affect their ability to cook. While fresh fruit is beautiful, tasty and nutritious, if arthritis makes it difficult for an individual to peel an orange or slice an apple, that gift could go to waste. And chewing and/or swallowing issues may make items like nuts or dried fruit out of the question. For meal or restaurant delivery services, a caregiver may need to be on the premises to assist an older person who feels unsafe when home alone, is unable to answer the door, or is unable to prepare the foods as delivered (preparation, cooking or reheating if needed).
Bess was delighted when she received Sharon's gift, a gift certificate for six months of weekly grocery deliveries from a local market. Together they developed an online grocery list that included Bess's favorite frozen meals, fresh and canned fruits, frozen vegetables and other necessities. Sharon is pleased that her very practical gift will make her mother's life a little less stressful and contribute to her nutritional well-being.
Wishing you a joyous holiday season with your loved ones.
©2019 Becky Dorner & Associates, Inc. Becky Dorner & Associates, Inc. (BDA) is a trusted source of valuable continuing education, nutrition resources and creative solutions. Visit www.beckydorner.com to sign up for free news and information.