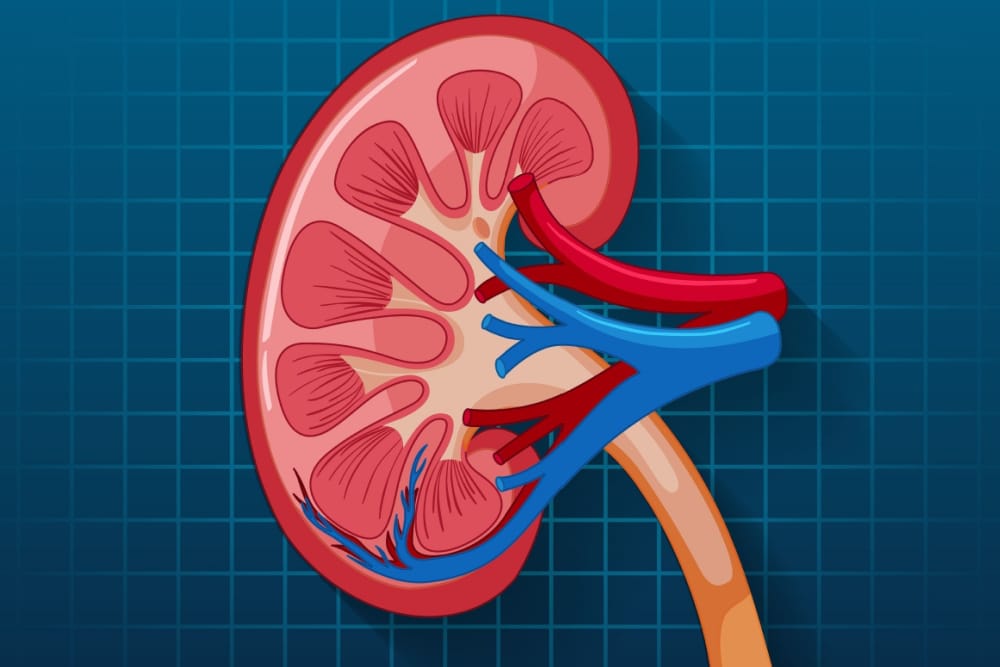 If you ask any clinical dietitian what the most challenging subject is for patients to understand and adopt, a common answer is "renal disease." Most registered dietitian nutritionists (RDN) working in acute or post-acute care settings will encounter patients with chronic kidney disease (CKD) often, so a working knowledge of the condition is necessary and important, even if you are not a Board Certified Specialist in Renal Nutrition.
CKD affects more than 1 in 7 U.S. adults – an estimated 37 million Americans.1 Nearly 786,000 people in the US (2 in every 1000) are living with end stage renal disease (ESRD); 71% receive dialysis and 29% are living with a kidney transplant.1 Those with early stage CKD (stage 1-2) often have vastly different nutritional needs than later stage (stage 3, 4 and 5, with or without dialysis) or kidney transplant patients. Many patients with CKD have comorbidities like diabetes or hypertension that could also require MNT. Renal insufficiency can result in anemia, edema and declined immune function, complicating the nutritional needs of patients even more.
If you haven't brushed up your MNT skills on the subject kidney disease recently, there's no time like the present! One of the best resources available is a joint statement published in 2020 by the National Kidney Foundation and the Academy of Nutrition and Dietetics: KDOQI (Kidney Disease Outcomes Quality Initiative) Clinical Practice Guideline For Nutrition In CKD: 2020 Update (https://www.ajkd.org/action/showPdf?pii=S0272-6386%2820%2930726-5). The evidence-based guideline statements in this publication were evaluated using the respected Grading of Recommendations, Assessment, Development and Evaluation (GRADE) criteria. As applicable, each guideline statement is accompanied by rationale/background information, a detailed justification, monitoring and evaluation guidance and implementation considerations.
The KDOQI Guideline gives RDNs guidance on nutrition screening and assessment, medical nutrition therapy, protein and energy intake, nutritional supplementation, micronutrients and electrolytes. It addresses all aspects of nutrition assessment, including but not limited to the use of serum albumin to evaluate nutritional status.2 (Just a hint, the new guideline replaces older recommendations to try to maintain serum albumin levels above 4.0 g/dL in patient with CKD). And it discusses recommendations for managing elevated serum potassium and phosphorus levels and managing comorbidities, including diabetes.
A major goal of medical nutrition therapy (MNT) for CKD is to prevent decline in kidney function, so understanding the nutrition recommendations for different levels of CKD is necessary and important. The KDOQI Clinical Practice Guideline is a one-stop resource for the RDN, and a valuable tool that can assist with the nutrition care process.
For more information about nutrition and chronic kidney disease, consider our CPE programs on CKD, including a 12 CPE program on the KDOQI Guideline, available for purchase at beckydorner.com/product/nutrition-management-of-chronic-kidney-disease-2020-and-beyond-course.
References
Centers for Disease Control and Prevention. Chronic Kidney Disease in the United States, 2021. Centers for Disease Control and Prevention, US Department of Health and Human Services; 2021.
Ikizler TA, Burrowes JD, Byham-Gray LD, et al; KDOQI Nutrition in CKD Guideline Work Group. KDOQI clinical practice guideline for nutrition in CKD: 2020 update. Am J Kidney Dis. 2020;76(3)(suppl 1):S1-S107. https://www.ajkd.org/article/S0272-6386(20)30726-5/fulltext.