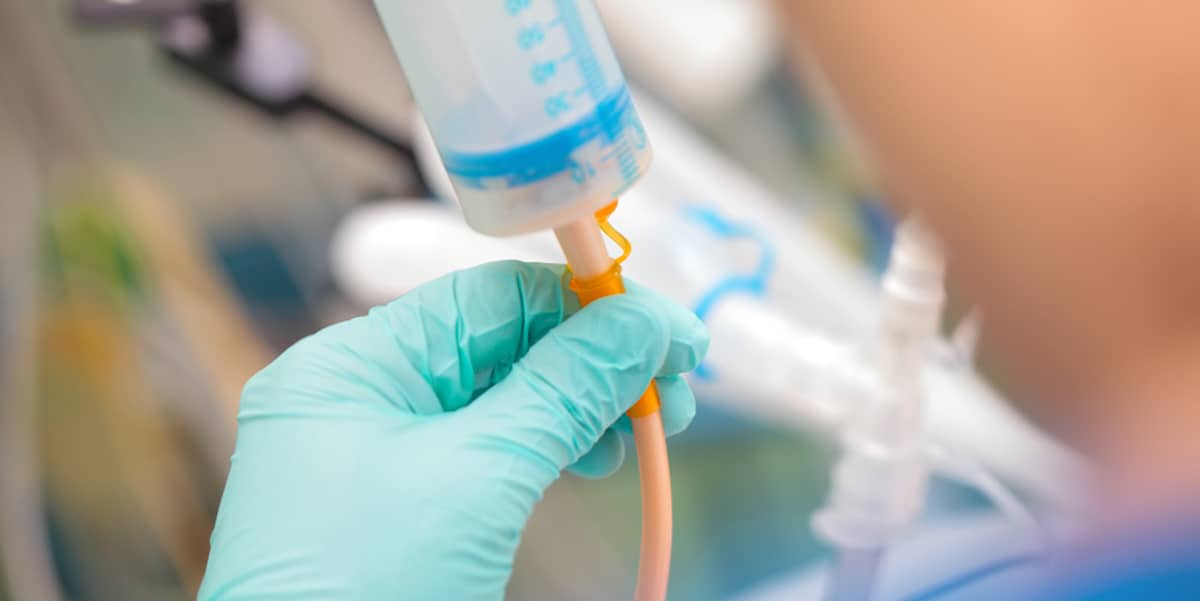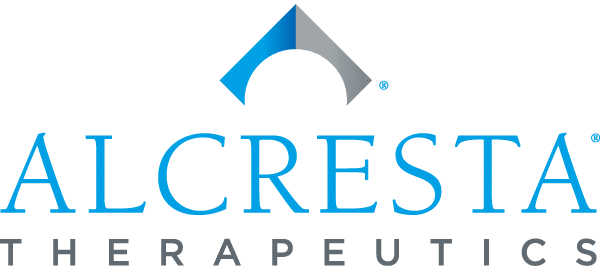 The most successful partnerships are made when two organizations that share a similar passion come together. Alcresta Therapeutics, Inc., a leading developer of enzyme-based products for people living with gastrointestinal disorders, approached us about sponsoring a continuing professional education (CPE) webinar on enteral nutrition challenges.
Alcresta Therapeutics' enzyme-based products are designed to address the need for improved nutritional care in a number of medical conditions, such as pancreatitis, in which enteral feeding is required. It's a natural partnership with Becky Dorner & Associates as we, too, are focused on providing education and awareness surrounding improved nutritional care.
Enteral Nutrition Challenges: Focus on Pancreatic Insufficiency Webinar
Presented by Jeanette M. Hasse, Ph.D., RD, LD, FADA, CNSC
Course Description:
This webinar aims to identify challenges associated with enteral nutrition in patients with fat malabsorption and define nutrition treatment options. Enteral nutrition strategies will be evaluated along with appropriate dosing and delivery of pancreatic enzymes for bolus and continuous enteral feeding.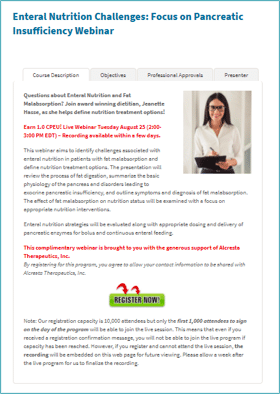 Results
A sponsored continuing professional education webinar on enteral nutrition challenges gave Alcresta Therapeutics a chance to increase awareness while gaining new contacts who opted in to receive more information about Alcresta Therapeutics and its products.
1,470 Total Attendees of 2,390 Registrants (62%) 1,024 attended the live webinar 446 watched the recorded webinar
879 Attendees Received CEUs of 1,470 Total Attendees (60%) 433 attendees from live webinar
446 viewers of recorded webinar We obtained detailed contact information for 1,559 RDs/RDNs who have opted in to receive more information from Alcresta Therapeutics, Inc.
Note: We have upgraded our platform and we can now accommodate 10,000 webinar registrants and 3,000 live attendees—giving you even more opportunities to connect and get your name in front of the right people!
Interested in Sponsorship Opportunities?
We're looking for like-minded companies who share our passion for education on nutrition, healthy aging, acute and post-acute (long-term) care. If you think you're the right fit for a sponsorship, we'd love to learn more about your business and explore opportunities and pricing.