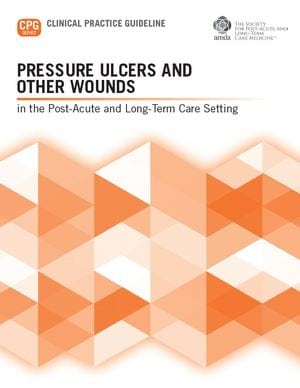 Pressure Ulcers and Other Wounds in the Post-Acute and Long-Term Care Setting
Clinical Practice Guideline – CPE Self-Study Program
Credits: 1.0
Professional Approvals: CDR
Course Expiration:  1/10/2021
Course Description
The Pressure Ulcers and Other Wounds in the Post-Acute and Long Term Care Setting: Clinical Practice Guideline outlines recommends processes that should help PA/LTC facilities to systematically manage and improve the care of patients with pressure ulcers and other wounds. It outlines steps for recognizing, assessing, preventing and treating, and monitoring pressure ulcers and other wounds, including recommendations for nutrition care.
Pressure ulcers and other wounds remain a significant problem in the post-acute and long-term care (PA/LTC) setting. Along with increased morbidity and mortality, pressure ulcers and other wounds result in a variety of physical, functional, and psychosocial issues for individual patients. Risks for these wounds are minimized and the wounds most effectively treated when the interprofessional care team—including the patient and family or legally authorized representative—develops and implements a plan of care that is consistent both with the patient's prognosis, goals, and expectations and with well-established standards of care.
Course Learning Objectives
After completing this continuing education course, the learner should be able to:   
State at least 3 risk factors for pressure ulcer development.
Understand the components of a systematic facility approach to the management of pressure ulcers and other wounds.
State evidence-based recommendations for nutrition and hydration of pressure injuries.
CDR Learning Level: II
Suggested CDR Learning Needs Codes
2070 Macronutrients
2090 Micronutrients
5040 Long-term, intermediate, assisted living
5380 Wound Care
Suggested CDR Performance Indicators
8.1.1 Interprets and applies evidence-based comparative standards for determining nutritional needs.
8.1.5 Applies medical nutrition therapy in disease prevention and management.
10.2.4 Integrates foundational dietetics knowledge with critical appraisal of assessment data to diagnose nutrition problems (using problem solving, etiology, signs, and symptoms [PES], which can be resolved or improved through treatment or nutrition intervention.
10.2.5 Develops nutrition prescription to communicate required food and nutrient needs.
Note: Numerous other CDR Learning Needs Codes and Performance Indicators may apply.
How to Complete CPE certificate
Printable CPE Questions Pressure Ulcers and Other Wounds in the LTC Setting – AMDA CPG Course