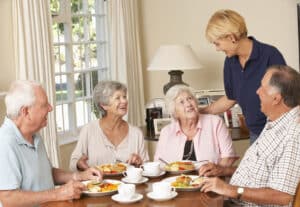 Free 1 CPE!
Redefine your Dining Experience and make mealtime memorable and enjoyable with these fundamental principles!
So much can go wrong in the dining experience. This negativity can rapidly infect the entire organization– draining morale, increasing costs, and limiting profitability. An outstanding dining experience, on the other hand, has the potential to reap rewards for everyone and create communities of belonging. For that to occur, certain fundamental principles need to be cultivated and take root within an organization's culture. Join Cindy Heilman MSFN, NDTR, FAND and learn how to best identify blind spots and increase the potential to improve results rapidly and walk away with critical strategies to raise service quality and make mealtime both a memorable and an enjoyable experience for all.
Click here for Handouts.
Certificate
To receive your certificate, after listening to the webinar, please sign into your BDA account and follow these instructions:
Click on the "Add Test to Your Account" button below this message. This will automatically add the test to your account.
Go to "Member Area" and in your account, click on the "Tests/Certificate" tab.
Scroll down to "Send or Use Additional Tests/Certificates". Find the corresponding program and click on "Use".
Scroll up to "Tests/Certificates" and click "Start" to obtain your certificate.
Learn More About the Kind Dining Training Series
Login to My Member Account