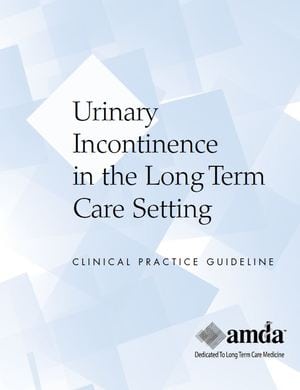 Urinary Incontinence in the Long-Term Care Setting
Clinical Practice Guideline – CPE Self-Study Program
Credits: 1.0
Professional Approvals: CDR
Course Expiration: 06/11/2020
Course Description
The AMDA Practice Guideline Urinary Incontinence in the Long-Term Care Setting outlines ways to recognize and manage urinary incontinence (UI), which is one of the most common conditions among patients residing in LTC facilities. The Guideline will help the reader identify individuals with urinary incontinence and develop care plans for treatment.
Urinary incontinence (UI) is one of the most common conditions among patients residing in long-term care (LTC) facilities, affecting more than 59% of all such patients. If left untreated, UI may be associated with negative outcomes including falls, skin problems, urinary tract infections (UTIs), numerous psychological effects, and dependence that often lead to placement in an LTC facility. Nutrition assessment can help identify nutrition interventions that might help manage urinary incontinence.
Course Learning Objectives
After completing this continuing education course, the learner should be able to:
Know several risk factors for urinary incontinence.
Understand management of urinary incontinence.
Understand the relationship between fluid intake in urinary incontinence.
CDR Learning Level: II
Suggested CDR Learning Needs Codes
3000 Nutrition assessment and diagnosis
3040 Food consumption, food balance
5040 Long-term, intermediate, assisted living
5100 Elderly
Suggested CDR Performance Indicators
10.2.9 In collaboration with the client and interdisciplinary team (including NDTRs), selects and implements current and evidence-based nutrition interventions and patient education.
8.1.5 Applies medical nutrition therapy in disease prevention and management.
Note: Numerous other CDR Learning Needs Codes and Performance Indicators may apply.
How to Complete CPE certificate
Printable CPE Questions Urinary Incontinence in the LTC Setting – AMDA CPG Course