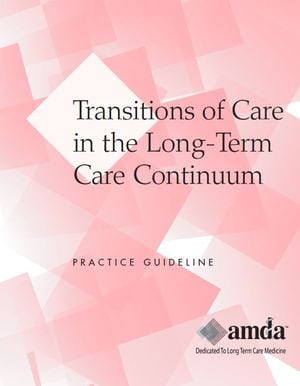 Transitions of Care in the Long-Term Care Continuum
Clinical Practice Guideline – CPE Self-Study Program
Credits: 1.0
Professional Approvals: CDR
Course Expiration: 06/11/2020
Course Description
The AMDA Practice Guideline Transitions of Care in the Long-Term Care Continuum outlines a set of actions designed to ensure care coordination during care transitions.
Transition of care refers to the movement of patients between health care locations, providers or different levels of care within the same location as their conditions and care needs change. Transitions can occur within settings; (primary care to specialty care, for example), or between settings (such as from the hospital to skilled nursing care), across health states (curative care to palliative care), or between providers.
This Practice Guideline:
Discusses barriers to effective care transitions.
Reviews the benefits of providing continuity of care.
Provides guidelines for implementing a care transition program.
Course Learning Objectives
After completing this continuing education course, the learner should be able to:
Define sites of care within the long-term care continuum.
Understand barriers to effective care transitions.
Understand what information is needed to assure continuity of care during transitions.
CDR Learning Level: II
Suggested CDR Learning Needs Codes:
3000 Nutrition assessment & Diagnosis
5040 Long-term, intermediate, assisted living
5100 Elderly
5410 Client protocols, clinical guidelines
Suggested CDR Performance Indicators
2.1.9 Ensures written communications are timely, legible, accurate and professional in nature.
8.1.1 Interprets and applies evidence-based comparative standards for determining nutritional needs.
10.2.7 Prioritizes specific nutrition problem(s).
Note: Numerous other CDR Learning Needs Codes and Performance Indicators may apply.
How to Complete CPE certificate
Printable CPE Questions Transitions of Care in the LTC Continuum – AMDA CPG Course