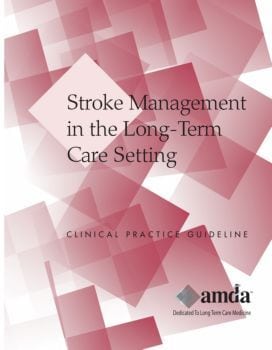 Stroke Management in the Long-Term Care Setting
Clinical Practice Guideline – CPE Self-Study Program
Credits: 2.0
Professional Approvals: CDR
Course Expiration: 11/5/2020
Course Description
The AMDA Stroke Management in the Long-Term Care Setting Clinical Practice Guideline outlines information that will allow clinicians, including RDNs to understand all 3 aspects of stroke care as it applies to patients in long-term care settings.
A stroke occurs when the local blood supply to the brain is suddenly interrupted, causing brain cell damage and death. Each year, more than 795,000 Americans experience a stroke. About 610,000 of these are first attacks and 185,000 are recurrent attacks. Stroke is a leading cause of hospitalizations for Medicare stroke survivors, and many survivors often require post-acute care for 6 months or more. Stroke survivors often require longer stays in LTC facilities in the 5 years following the attack than do people of the same sex and age who have not had a stroke. Stroke care can be classified as acute stroke, post-stroke, and stroke prevention.
Course Learning Objectives
After completing this continuing education course, the learner should be able to:
Recognize modifiable risk factors for stroke.
Sate at least 3 complications of a stroke.
Understand how stroke can affect an individual's nutritional status.
CDR Learning Level: II
Suggested CDR Learning Needs Codes
3050 Feeding, swallowing, dentition
5040 Long-term, intermediate, assisted living
5300 Neurological: stroke, Alzheimer's dementia, Parkinson's, spinal cord injuries
5410 Client protocols, clinical guidelines
Suggested CDR Performance Indicators
8.1.4 Demonstrates knowledge of nutrient requirements throughout the life span and their role in health promotion and disease management.
8.1.5 Applies medical nutrition therapy in disease prevention and management.
10.2.5 Develops nutrition prescription to communicate required food and nutrient needs.
10.2.8 Establishes the plan of care, directly addressing the nutrition diagnosis in collaboration with the patient in defining the time, frequency and duration of the intervention.
Note: Numerous other CDR Learning Needs Codes and Performance Indicators may apply.
How to Complete CPE certificate
Printable CPE Questions Stroke Management in the LTC Setting – AMDA CPG Course