Homepage

>

Professionals

>

Continuing Professional Education

>

Recorded Webinars

>

CMS Phase II LTC Requirements of Participation & the New Survey Process-Webinar 2
CMS Phase II LTC Requirements of Participation & the New Survey Process-Webinar 2
Related to Food, Nutrition and Dining Effective November 28, 2017
Webinar 2 - RECORDED VERSION
Click here to review special offers - and receive this webinar for FREE!
Please note: This is the second webinar in the series on this important CMS information. If you have not listened to Webinar 1, we suggest that you do so. You can purchase the recording here. If needed, you can also purchase the CMS Phase I webinar (from Oct. 2016) here.
Expires: August 2, 2018
CEUs: 1.5 hours
Presenter: Brenda Richardson, MA, RDN, LD, CD, FAND
Description:
The new Centers for Medicare & Medicaid Services (CMS) Phase II LTC Requirements of Participation (ROP) and Survey Process are here and integrating food, nutrition and dining are integral components for success. Two webinars will explore the CMS revised Requirements for Participation for Medicare and Medicaid-certified nursing facilities and the new Survey Process. This description is for Webinar 2.
Key food, nutrition and dining areas in the Advance Copy - Revisions to State Operations Manual Appendix PP F-Tags effective November 28, 2017 will be presented along with helpful resources to assist in regulatory compliance.
Webinar 2 Will Include:
In-depth review of the Phase II nursing facility F Tags 540-949 related to food/nutrition and dining
Review ofProbes and Potential Tags for Investigation
Discussion of Enforcement Considerations
Training Resources Available
Course Objectives for Webinar 2:
After this presentation, participants will be able to:
Understand the Phase II nursing facility F Tags 540- F949 related to food/nutrition and dining.
Review the Probes and Potential Tags for Investigation.
Discuss Enforcement Considerations.
Identify resources to assist in facility implementation of food, nutrition and dining for regulatory compliance.
Audience: Registered Dietitians (RD), Registered Dietitian Nutritionists (RDN), Dietetic Technicians Registered (DTR), Nutrition and Dietetics Technicians Registered (NDTR) and members of the interdisciplinary team
Course Continuing Professional Education (CPE) Hours: 1.5 for each webinar (total of 3.0 CPEs for both webinars)
CDR Level: 2
Learning Needs Codes and Performance Quality Indicators:
7100 Institution/Regulatory Policies and Procedures, HCFA, OBRA, Joint Commission, NCQA, OSHA, US
1.5.1 Stays current of, complies with and models national, state and local legislation, policies and standards
10.4.5 Adheres to legislation, regulations, standards and organization policies related to recommending, prescribing and dispensing
12.3.4 Collaborates with community partners to design the program
12.3.8 Assesses the compatibility of the program goals and objectives with those of the organization and its administration and adjusts accordingly
7160 Quality Management
6.1.3 Establishes goals for improving quality of services provided
6.1.7 Evaluates, documents and communicates quality improvement outcomes
6.2.4 Disseminates research or performance improvement outcomes to advance knowledge, change practice and enhance effectiveness of services
6.2.5 Applies research/evidence-based findings to improve practice, service delivery, and health and nutrition of customers
1070 Leadership, Strategic and Critical Thinking
1.2.1 Identifies and takes the appropriate steps to maintain and enhance competence
3.1.3 Takes initiative to facilitate change
5.2.7 Suggests, develops and/or implements innovative enhancements and new software platforms, applications and technologies to meet the needs of the target group and the environment
8.2.5 Keeps abreast of, advocates for and integrates knowledge of national and local funding models that impact the population and services provided
5040 Long term, Intermediate and Assisted Living
8.3.6 Keeps abreast of current nutrition and dietetics knowledge and trends
Continuing Professional Education (CPE)
Becky Dorner & Associates is a Continuing Professional Education (CPE) Accredited Provider (NU004) with the Commission on Dietetic Registration (CDR). CDR Credentialed Practitioners will receive 1.5 Continuing Professional Education units (CPEUs) for completion of this activity. This activity is a CDR Level II activity.
Earn credit hours for your entire team!
Multiple participants can view the webinar from 1 location. Each webinar comes with 1 continuing education certificate for 1 participant. Additional certificates maybe purchased by simply selecting "Additional Certificates" when ordering and adding the desired number of certificate quantities in the shopping cart. For example, your team has 4 individuals who want certificates; your shopping cart would look like this:
Item Price Qty Total
1 Webinar with 1 Certificate $27.50 1 $27.50
Additional Certificates (with purchase of the webinar) $12.50 3 $37.50
Handouts will be emailed before the program (they will be sent to the email provided upon sign up).
Instructions for Obtaining Continuing Professional Education (CPE) and Obtain Your Certificate
Questions about the Continuing Professional Education Program?
Please contact Becky Dorner & Associates, Inc. at info@beckydorner.com or 1-800-342-0285.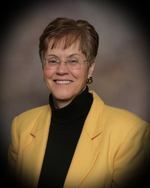 Presenter: Brenda Richardson, MA, RDN, LD, CD, FAND is President of Brenda Richardson MA, RDN, LD, CD, LLC with has more than thirty years of proven success in directing multi-million dollar food service and nutrition operations.
Brenda is a national lecturer, author/contributing author of many professional books and publications, and serves on state and national offices in the Academy of Nutrition and Dietetics. Her expertise is in demand as she has successfully assisted healthcare facilities cited with serious and immediate jeopardy deficiencies, achieve and sustain positive nutritional outcomes. Brenda serves on the Academy of Nutrition and Dietetics (AND) IMPACT Act Task Force and the Academy CMS Work Group; the Academy Positions Committee, and is Past- Chair of the Board of Directors for the Academy Political Action Committee (ANDPAC).
Brenda's practical experience and skills put her in demand for advocating the profession, and professional speaking throughout the country.
---

Special Offers!
Purchase one of our related publications and receive this Webinar for FREE!
Special offer #1: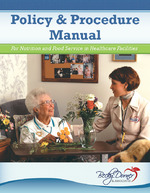 Purchase our new 2017 Policy & Procedure Manual and get this webinar for free! To order, simply use drop down box above for Product Options.
Special offer #2: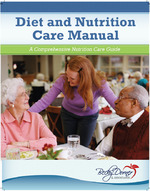 Purchase our Diet and Nutrition Care Manual and get this webinar for free! To order, simply use drop down box above for Product Options.