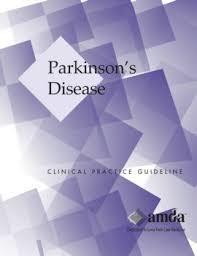 Parkinson's Disease in the Long-Term Care Setting
Clinical Practice Guideline – CPE Self-Study Program
Credits: 1.5
Professional Approvals: CDR
Course Expiration: 11/5/2020
Course Description
The AMDA Parkinson's Disease in the Long-Term Care Setting Clinical Practice Guideline outlines information that will allow clinicians to evaluate causes of and determine interventions for Parkinson's disease, including disease and symptom management to allow the highest possible functional status and quality of life.
Parkinson's disease (PD) is an age-related, degenerative neurological disorder. Patients with PD are substantially more likely to live in nursing homes than are adults in the general population. The prevalence of PD in nursing homes is estimated to be about 5% to 10%. The disease is slowly progressive, and once symptoms occur, the mean life expectancy is 15 years. The severity of PD disease course varies widely; some patients may be only slightly disabled 15 to 20 years after diagnosis, whereas others may be completely disabled after 10 years. PD reduces life expectancy because of an increased incidence of factors such as motor disorders, dysphagia with aspiration pneumonia, infection, dementia, and fall-related injuries.
Course Learning Objectives
After completing this continuing education course, the learner should be able to:
Recognize signs and symptoms of Parkinson's disease.
Be able to state 3 non-pharmacological treatments for Parkinson's disease.
Be able to state 3 complications/comorbidities of Parkinson's disease.
CDR Learning Level: II
Suggested CDR Learning Needs Codes: 
3050 Feeding, swallowing, dentition
5040 Long-term, intermediate, assisted living
5300 Neurological: stroke, Alzheimer's dementia, Parkinson's, spinal cord injuries
5410 Client protocols, clinical guidelines
Suggested CDR Performance Indicators
8.1.3 Integrates knowledge of macronutrients and micronutrients for absorption, digestion and metabolism throughout the life span in practice.
8.1.4 Demonstrates knowledge of nutrient requirements throughout the life span and their role in health promotion and disease management.
10.2.3 Analyzes and synthesizes the assessment data to identify nutrition problems following the Standards of Practice in Nutrition Care for RDNs.
10.2.4 Integrates foundational dietetics knowledge with critical appraisal of assessment data to diagnose nutrition problems (using problem solving, etiology, signs and symptoms [PES] statements), which can be resolved or improved through treatment or nutrition intervention.
Note: Numerous other CDR Learning Needs Codes and Performance Indicators may apply.
How to Complete CPE certificate
Printable CPE Questions Parkinson's Disease – AMDA CPG Course