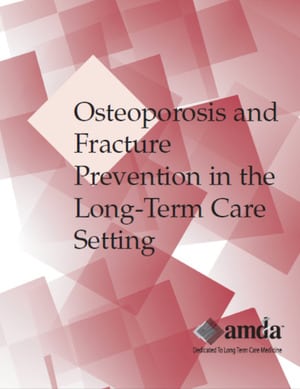 Osteoporosis and Fracture Prevention in the Long-Term Care Setting
Clinical Practice Guideline – CPE Self-Study Program
Credits: 1.0
Professional Approvals: CDR
Course Expiration:  11/5/2020
Course Description
The AMDA Osteoporosis and Fracture Prevention in the Long Term Care Setting  Clinical Practice Guideline is intended to guide the practitioner in the recognition, assessment, treatment, and monitoring of patients with osteoporosis or at risk for osteoporosis in the LTC setting.
Osteoporosis, or porous bone, is a disease characterized by low bone mass (osteopenia) and structural deterioration of bone tissue, leading to bone fragility and an increased susceptibility to fractures. Fractures are especially common in the hip, spine, or wrist, although any bone can be affected. Although osteoporosis is regarded primarily as a disease of older women, it also affects up to 2 million American men. Osteoporosis reduces bone strength, the most serious consequence of which is fracture. Each year in the United States, an estimated 2 million osteoporosis-related fractures occur in men and women aged over 50 years. The prevalence of osteoporosis and osteopenia in LTC patients may be as high as 97%.
Course Learning Objectives
After completing this continuing education course, the learner should be able to:
Know the risk factors for osteoporosis.
Understand the complications of fractures related to osteoporosis.
State at least three treatment options for osteoporosis.
CDR Learning Level: II
Suggested CDR Learning Needs Codes
2090 Micronutrients, vitamins, minerals
5040 Long-term, intermediate, assisted living
5130 Bone diseases, osteoporosis
5410 Client protocols, clinical guidelines
Suggested CDR Performance Indicators
8.1.3 Integrates knowledge of macronutrients and micronutrients for absorption, digestion and metabolism throughout the life span in practice.
8.1.5 Applies medical nutrition therapy in disease prevention and management.
10.2.5 Develops nutrition prescription to communicate required food and nutrient needs.
10.2.8 Establishes the plan of care, directly addressing the nutrition diagnosis in collaboration with the patient in defining the time, frequency and duration of the intervention.
Note: Numerous other CDR Learning Needs Codes and Performance Indicators may apply.
How to Complete CPE certificate
Printable CPE Questions Osteoporosis and Fracture Prevention in the LTC Setting – AMDA CPG Course