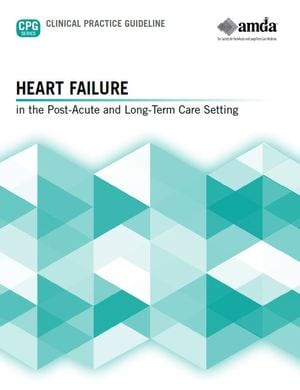 Heart Failure in the Post-Acute and Long Term Care Setting
Clinical Practice Guideline – CPE Self-Study Program
Credits: 2.0
Professional Approvals: CDR
Course Expiration: 06/11/2020
Course Description
The AMDA Clinical Practice Guideline Heart Failure in the Post-Acute and Long Term Care Setting is intended to help clinicians recognize, assess, and manage patients with heart failure.
Heart failure is a complex clinical syndrome that results from any structural or functional disorder that impairs the ability of the ventricles to fill with or eject blood at a rate needed by the body. It is a progressive disease associated with decreased life expectancy. About 10 per 1000 individuals aged over 65 will develop heart failure, and it is a common condition in post-acute care settings. Nutrition assessment can help identify potential interventions for patients with heart failure in the post-acute and/or long-term care setting.
Course Learning Objectives
After completing this continuing education course, the learner should be able to:
Know the symptoms of heart failure.
Understand lifestyle modifications that can help manage/treat heart failure in the post-acute/long-term care setting.
Understand the role of weight changes in monitoring and managing heart failure.
CDR Learning Level: II
Suggested CDR Learning Needs Codes 
3040 Food consumption, fluid balance
5100 Elderly
5040 Long-term, intermediate, assisted living
5160 Cardiovascular Disease
Suggested CDR Performance Indicators
8.1.4 Demonstrates knowledge of nutrient requirements throughout the life span and their role in health promotion and disease management.
8.1.5 Applies medical nutrition therapy in disease prevention and management.
8.2.3 Implements individualized services to reflect customer-centered approach as it pertains to the customer's physical, social, cultural, institutional and economic environment.
10.2.8 Establishes the plan of care, directly addressing the nutrition diagnosis in collaboration with the patient in defining the time, frequency and duration of the intervention.
Note: Numerous other CDR Learning Needs Codes and Performance Indicators may apply.
How to Complete CPE certificate
Printable CPE Questions Heart Failure in the Post-Acute and LTC Setting – AMDA CPG Course