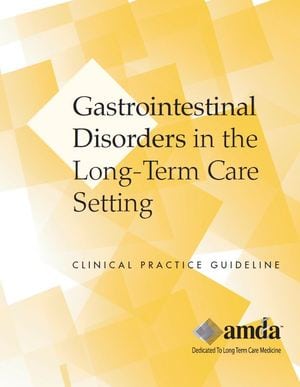 Gastrointestinal Disorders in the Long-Term Care Setting
Clinical Practice Guideline – CPE Self-Study Course
Credits: 1.0
Professional Approvals: CDR
Course Expiration: 10/08/2020
Course Description
Although aging has relatively minimal effects on GI function, age-related changes can cause or contribute to several GI disorders. Patients residing in long-term care facilities typically have numerous concurrent conditions and use numerous medications that may complicate the assessment and treatment of GI disorders. In addition, the presentation of many GI disorders in older people is atypical.
The AMDA Gastrointestinal Disorders in the Long-Term Care Setting Clinical Practice Guideline provides guidance on the prevention of, recognition of, assessment of, and treatment of several GI disorders for clinicians in long-term care settings.
Course Learning Objectives
After completing this continuing education course, the learner should be able to:
State at least 3 age-related changes that can affect GI function.
List at least 3 signs and symptoms of gastrointestinal disorders.
List at least 3 causes of diarrhea in older adults.
CDR Learning Level: II
Suggested CDR Learning Needs Codes
4190 Elderly Nutrition
5100 Elderly
5220 Gastrointestinal disorders
5040 Long-term, intermediate, assisted living
Suggested CDR Performance Indicators
8.1.3 Integrates knowledge of macronutrients and micronutrients for absorption, digestion and metabolism throughout the life span in practice.
8.1.4 Demonstrates knowledge of nutrient requirements throughout the life span and their role in health promotion and disease management.
10.2.4 Integrates foundational dietetics knowledge with critical appraisal of assessment data to diagnose nutrition problems (using problem solving, etiology, signs and symptoms [PES] statements), which can be resolved or improved through treatment or nutrition intervention.
10.2.7 Prioritizes specific nutrition problem(s).
Note: Numerous other CDR Learning Needs Codes and Performance Indicators may apply.
How to Complete CPE certificate
Printable CPE Questions Gastrointestinal Disorders in the LTC Setting – AMDA CPG Course