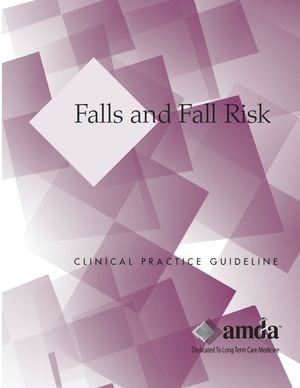 Falls and Fall Risk
Practice Guideline – CPE Self-Study Program
Credits: 1.0
Professional Approvals: CDR
Course Expiration:  06/11/2020
Course Description
The AMDA Falls and Fall Risk Clinical Practice Guideline outlines potential causes of falls and interventions to address fall prevention in long-term care facilities.
Falling is a significant cause of injury and death in older persons, especially the frail elderly. Among other things, decreased body weight and osteoporosis may result in serious injuries or fracture as a consequence of a fall. Nutrition assessment can help identify risk factors for falls that can be addressed with nutrition intervention.
Course Learning Objectives
After completing this continuing education course, the learner should be able to: 
Identify how body weight might affect the outcome of a fall.
Understand medical conditions that could increase fall risk.
Identify nutrition-related interventions that might help decrease fall risk.
Understand the impact of several medications and nutrition supplements on fall risk.
CDR Learning Level: II
Suggested CDR Learning Needs Codes
5040 Long-term, intermediate, assisted living
5100 Elderly
5130 Bone diseases, osteoporosis
5410 Client protocols, clinical guidelines
Suggested CDR Performance Indicators

4.1.1 Demonstrates effective problem solving and professional judgment to address a need.
4.1.2 Interprets and integrates evidence-based research and literature in decision making.
8.1.2 Applies knowledge of food and nutrition as well as the biological, physical and social sciences in practice.
10.2.9 In collaboration with the client and interdisciplinary team (including NDTRs), selects and implements current and evidence-based nutrition interventions and patient education.
Note: Numerous other CDR Learning Needs Codes and Performance Indicators may apply.
How to Complete CPE certificate
Printable CPE Questions Falls and Fall Risk – AMDA CPG Course