Note from Becky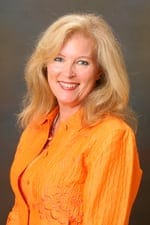 Thanks to all who attended my session and visited my booth at the Today's Dietitian Symposium in New Orleans! It was great to see so many colleagues and friends. Some of you were kind enough to share your ideas for possible educational programs and publications. As always, we love to hear from you. Please let us know how we can be of support.
Wishing you a joyful June!
Becky
In the News
For the most current news, follow us on Social Media – just click the icons at the bottom of this newsletter page.
The 2017 Consolidated Appropriations Act 
Learn about funding for key nutrition and health programs under the 2017 Consolidated Appropriations Act.
Learn more:
https://www.congress.gov/bill/115th-congress/house-bill/244/text 
2017 IFIC Food and Health Survey: A Focus on 50+
The International Food Information Council Foundation conducted the 12th annual food and health survey to uncover insights into the diets and health of boomers and older Americans. Results indicate that this population is highly motivated to achieve better health although they may face some barriers to good health.
FDA Aligns Menu Labeling Compliance Date with Enforcement Date for Menu Labeling 
The U.S. Food and Drug Administration is extending the compliance date for menu labeling requirements to May 2018.
Healthy Aging
To Help Ward off Alzheimer's Think before you Eat
Clinical trials may help determine nutrition's role in fighting harmful inflammation and oxidation and protecting brain cells from Alzheimer's.
Additional information:
The Mind Diet
Brain Health Food Diet
A Healthy Middle-Aged Heart May Protect Your Brain Later
People who want to protect their brain health should protect their heart health and the sooner the better, according to findings from a recent study published in the Journal of the American Medical Association.
Dairy Intake is Protective against Bone Loss in Older Vitamin D Supplement Users: The Framingham Study
A prospective cohort study of seniors concluded that higher intakes of dairy products and vitamin D supplementation were associated with a higher bone mineral density.
Other News
It's Alzheimer's Awareness Month! 
Enjoy these resources on Alzheimer's disease and the Longest Day.
Alzheimer's Association
National Institute on Aging
Medline Plus (U.S. National Library of Medicine)
Academy of Nutrition and Dietetics
Communication Training Program and Antipsychotic Reduction
JAMA Internal Medicine published information on a longitudinal study of the OASIS communication training program and its use with individuals with dementia living in nursing homes. The study provides evidence to alternative methods of treatment for symptoms of dementia.
Does Sugar Feed Cancer?
The Society for Integrative Oncology discusses some of the myths and misperceptions related to cancer risk and treatment related to diet and health.
Just For Fun!
Small Kittens Make Huge Difference to Elderly
Happy Life
Jimmy Buffett Opening Margaritaville Senior Living CommunitiesGood Morning America
Tips for Nutrition Care Professionals
The International Dysphagia Diet Standardisation Initiative
International Standardized terminology and definitions for texture modified foods and liquids for dysphagia have been in the development stages with the International Dysphagia Diet Standardisation Initiative.
(Must log-in to access.)
Learn more with our webinar recording presented by the Co-Chairs of The International Dysphagia Diet Standardisation Initiative Framework
Recipes by Health Condition
Take the guesswork out of what to cook with this assortment of recipes designed with specific guidelines for various health conditions!
New! Tips and Resources
Alzheimer's and Dementia
Download this free article – excerpted from our Diet and Nutrition Care Manual.
Tube Feeding and Dementia
Resources on Tube Feeding and Dementia excerpted from our newly released publication, End of Life Nutrition and Hydration.
Technology Updates
Quality Resource Collection: 100 Resources at Your Fingertips 
The Quality Resource Collection, published by the Academy of Nutrition and Dietetics Quality Management Committee serves to develop quality management knowledge and skills as a critical component of nutrition and dietetics practice. The collection reflects various areas of expertise with over 100 resources available.
Disclaimer: The e-zine contains a variety of news from evidence based sources, current news and mainstream media topics, current trends, and other information. All content in the Becky Dorner & Associates, Inc. e-zine represent the opinions of the authors, and not necessarily those of Becky Dorner & Associates, Inc. No endorsement of the author's views should be inferred without it being specifically identified as such. Becky Dorner & Associates, Inc. does not assume responsibility for opinions expressed by the authors or individuals featured in the e-zine.