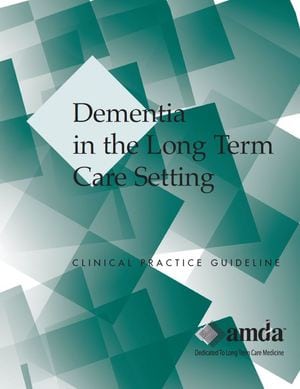 Dementia in the Long-Term Care Setting
Clinical Practice Guideline – CPE Self-Study Program
Credits: 2.0
Professional Approvals: CDR
Course Expiration: 06/11/2020
Course Description
The Dementia in the Long-Term Care Setting Clinical practice guideline offers practitioners and care providers in LTC facilities a systematic approach to the recognition, assessment, treatment, and monitoring of patients with dementia.
Dementia is a syndrome characterized by progressive decline in multiple areas of cognitive function, which eventually produces significant deficits in self-care and social, occupational, and functional performance. Many residents of long term care (LTC) facilities and other residential settings have some degree of dementia. Nutrition assessment can help identify potential interventions for dementia patients that can help maintain or improve quality of life.
Course Learning Objectives
After completing this continuing education course, the learner should be able to:
Understand how to optimize quality of life for dementia patients.
Recognize ethical issues related to end of life nutrition care in dementia patients.
Promote caregiver education with regard to the natural progression of dementia.
CDR Learning Level: II
Suggested CDR Learning Needs Codes
5040 Long-term, intermediate, assisted living
5100 Elderly
5300 Neurological stroke, Alzheimer's dementia, Parkinson's, spinal cord injuries
5430 End of Life Care
Suggested CDR Performance Indicators
1.3.4 Communicates the risks, benefits, disadvantages, alternatives, and cost of the proposed treatment plan, contract, and statement of terms or scope of work and confirms customer understanding.
8.1.2 Applies knowledge of food and nutrition as well as the biological, physical and social sciences in practice.
8.1.5 Applies medical nutrition therapy in disease prevention and management.
10.2.5 Develops nutrition prescription to communicate required food and nutrient needs.
Note: Numerous other CDR Learning Needs Codes and Performance Indicators may apply.
How to Complete CPE certificate
Printable CPE Questions Dementia in the LTC Setting – AMDA CPG Course