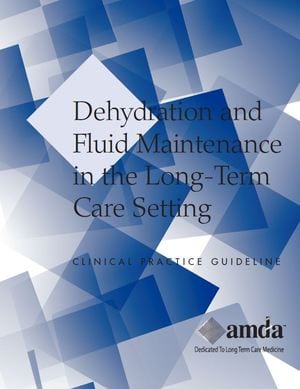 Dehyration and Fluid Maintenance in the Long-Term Care Setting
Practice Guideline – CPE Self-Study Program
Credits: 1.0
Professional Approvals: CDR
Course Expiration: 10/3/2020
Course Description
The AMDA Dehydration and Fluid Maintenance in the Long-Term Care Setting Clinical Practice Guideline provides guidance on the prevention of, recognition of, assessment of, and treatment of dehydration for clinicians in long-term care settings.
Dehydration refers to a complex condition that results in a loss of total body water, with or without salt, at a rate greater than the body can replace it. No universally-accepted definition of dehydration exists, resulting in confusion about the identification of and diagnosis of dehydration in the long term care setting. Dehydration can have severe consequences for the long-term care resident.
Course Learning Objectives
After completing this continuing education course, the learner should be able to:
State at least 3 strategies to help prevent dehydration of patients in long-term care.
Identify at least 3 risk factors for dehydration.
Understand the strengths and limitations of using laboratory tests to assess for dehydration.
CDR Learning Level: II
Suggested CDR Learning Needs Codes
2070 Macronutrients: carbohydrate, fat, protein, fiber, water
3040 Food consumption, fluid balance
5040 Long-term, intermediate, assisted living
5100 Elderly
Suggested CDR Performance Indicators
8.1.3 Integrates knowledge of macronutrients and micronutrients for absorption, digestion and metabolism throughout the life span in practice.
8.1.4 Demonstrates knowledge of nutrient requirements throughout the life span and their role in health promotion and disease management.
10.2.4 Interprets and applies evidence-based comparative standards for determining nutritional needs.
10.2.7 Prioritizes specific nutrition problem(s).
Note: Numerous other CDR Learning Needs Codes and Performance Indicators may apply.
How to Complete CPE certificate
Printable CPE Questions Dehydration and Fluid Maintenance in the LTC Setting – AMDA CPG Course