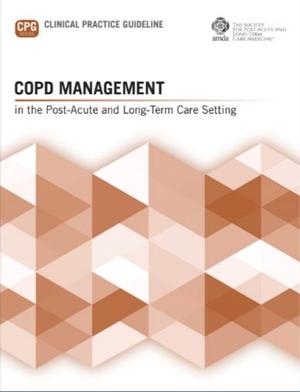 COPD Management in the Long-Term Care Setting
Clinical Practice Guideline – CPE Self-Study Program
Credits: 1.0
Professional Approvals: CDR
Course Expiration:  1/10/2021
Course Description
The COPD Management in the Long Term Care Setting: Clinical Practice Guideline outlines steps for assessment, treatment, and monitoring of patients with COPD. Outcomes that may be expected from the implementation of this clinical practice guideline include the following:
Earlier identification and better differential diagnosis of COPD
Higher value care for COPD
Improvements in a number of aspects of care, including nutritional status and management of multimorbidity.
Comfort care for patients with end-stage COPD
Chronic obstructive pulmonary disease (COPD) is a preventable, treatable disease characterized by persistent airflow limitation. COPD is currently the third leading cause of death in the United States and is estimated to affect 14.2% of adults aged 65 and older. Studies suggest that one of every six patients admitted to PA/LTC facilities may have a history of emphysema or COPD.
Course Learning Objectives
After completing this continuing education course, the learner should be able to:
State 3 treatment goals for patients with COPD.
Understand the role of nutrition care and exercise in patients with COPD.
Understand how comorbidities associated with COPD can complicate diagnosis and treatment.
CDR Learning Level: II
Suggested CDR Learning Needs Codes
4190 Elderly Nutrition
5040 Long-term, intermediate, assisted living
5330 Pulmonary Diseases
5410 Client protocols, clinical guidelines
Suggested CDR Performance Indicators
8.1.5 Applies medical nutrition therapy in disease prevention and management.
10.2.4 Integrates foundational dietetics knowledge with critical appraisal of assessment data to diagnose nutrition problems (using problem solving, etiology, signs, and symptoms [PES], which can be resolved or improved through treatment or nutrition intervention.
10.2.5 Develops nutrition prescription to communicate required food and nutrient needs.
10.2.7 Prioritizes specific nutrition problems(s)
Note: Numerous other CDR Learning Needs Codes and Performance Indicators may apply.
How to Complete CPE certificate
Printable CPE Questions COPD Management in the LTC Setting – AMDA CPG Course