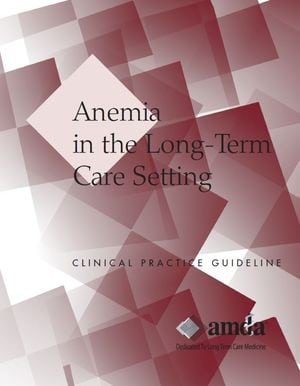 Anemia in the Long-Term Care Setting
Clinical Practice Guideline – CPE Self-Study Program
Credits: 1.0
Professional Approvals: CDR
Course Expiration: 09/26/2020
Course Description
The AMDA Anemia Clinical Practice Guideline outlines information that will allow clinicians, including RDNs to evaluate causes of and determine interventions for all forms of anemia.
Anemia is a condition of low hemoglobin concentration caused by decreased production, increased loss, or destruction of red blood cells. Anemia is common in the long term care setting, with a prevalence ranging from 34.4 percent to 60 percent. Causes of anemia include blood loss, increased red-cell destruction, decreased red-cell production, and decreased erythropoietin production.
Course Learning Objectives
After completing this continuing education course, the learner should be able to:
Identify the causes of different types of anemia.
Recognize the diagnostic criteria for different types of anemia.
Understand treatment options for different types of anemia.
CDR Learning Level: II
Suggested CDR Learning Needs Codes
2090 Micronutrients, vitamins, minerals
5040 Long-term, intermediate, assisted living
5230 Hematological disorders, anemia
5410 Client protocols, clinical guidelines
Suggested CDR Performance Indicators
8.1.3 Integrates knowledge of macronutrients and micronutrients for absorption, digestion and metabolism throughout the life span in practice.
8.1.4 Demonstrates knowledge of nutrient requirements throughout the life span and their role in health promotion and disease management.
10.2.3 Analyzes and synthesizes the assessment data to identify nutrition problems following the Standards of Practice in Nutrition Care for RDNs
10.2.8 Establishes the plan of care, directly addressing the nutrition diagnosis in collaboration with the patient in defining the time, frequency and duration of the intervention.
Note: Numerous other CDR Learning Needs Codes and Performance Indicators may apply.
How to Complete CPE certificate
Printable CPE Questions Anemia in the LTC Setting – AMDA CPG Course